Wildlife on Distant Hill
Thanksgiving Dinner ?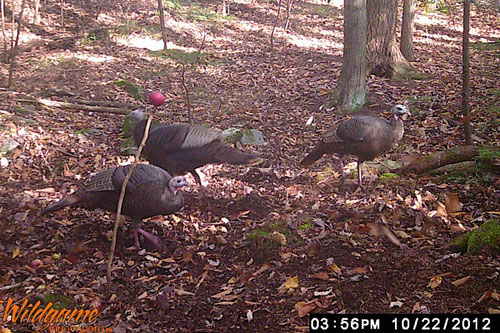 A Wildlife Restoration Success Story
New Hampshire offers excellent opportunities for hunting wild turkey. This is possible today only because turkeys have made an amazing comeback in New Hampshire. By 1854, the birds had completely 
disappeared in the state because of habitat loss and market and subsistence hunting. Restoration efforts began in 1975, when Fish and Game released 25 wild turkeys in New Hampshire; careful management based on good science has allowed that initial introduction to grow to more than 40,000 birds today.
Lions and Tigers and Bears, Oh My!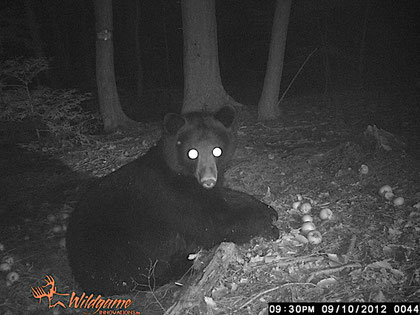 I recently put up a trail camera in the woods at Distant Hill, just a few hundred feet from the main road. It is amazing what is hidding out there in the forest.
In the past few weeks we have had numerous red fox, a fisher, a black bear,  a raccoon family,  and an opossum visit us, along with dozens of gray squirrels. To view all of the trail photos taken at Distant Hill, with links to information on each animal, go to my Trail Camera set on Flickr.
Rocky Raccoon ... An Early Riser
Last week, on my daily walk in the woods at Distant Hill Gardens, I came across an eight-inch hole in the ground. I thought it might be the den for a small animal, so I set up my motion sensing infrared trail camera. Sure enough, a few days later, I got a photo of a Raccoon sticking its head out of the burrow at 4:25 AM.
As stated in the Northern Virginia Ecology website, "Raccoons are omnivorous and eat almost anything, including: nuts, berries, acorns, leaves, grasshoppers, crickets, grubs, worms, dragonfly larvae, clams, wasps, salamanders, frogs, crayfish, snakes, turtles and their eggs, bird eggs and nestlings, fish, voles, and squirrels. They often eat garbage scraps and at times have been seen eating dead animals on the sides of roads."
And, from personal experience, I know they eat CORN. I wonder if this is the same Raccoon that raids our sweet corn every year?