COVID-19 Update:
Distant Hill Nature Trail and 'White Rock Woods' Play Area are still open daily,
free of charge, with a newly expanded parking area.
Dogs are welcome on leash.
There will be no Open Garden Weekends in May or June.
All workshops and talks scheduled for May or June have also been cancelled.
We will reassess the situation for July.
Click Here to 'View Our Calendar of Events' for updates.
Make a tax deductible
 no-fee donation using the 'PayPal Giving Fund'
All funds go to the 
About Distant Hill Gardens
Cultivating Our Connection to the Natural World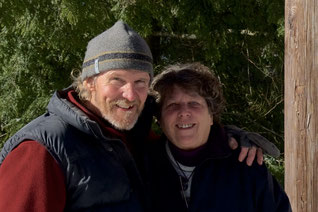 At Distant Hill Gardens and Nature Trail, we believe that humans can have a positive effect on Nature and our surroundings, but only if we proceed in a thoughtful and respectful manner. Our goal at Distant Hill is to encourage visitors to consider the impact they have on the environment in their daily lives and to teach them ways to make that impact a positive one.
By introducing guests to the diverse natural and man-made features of Distant Hill, we hope to motivate old and young alike to develop a more intimate connection to the Natural world and make them better stewards of the land. 
We trust that everyone will find something at Distant Hill Gardens that inspires them to look more closely at how humans and nature can work together toward a more sustainable future.
We look forward to your visit!
Michael and Kathy Nerrie