Distant Hill Accessible Nature Trail
"No one is useless in this world who lightens the burdens of another."   Charles Dickens
Make a tax deductible
 no-fee donation using the 'PayPal Giving Fund' 
All Donations go directly to buy the gravel, culverts, and fabric used to build more accessible trails. 
Distant Hill Nature Trail &
White Rock Woods Play Area are
Open to the public daily, dawn to dusk.
Parking is available at the trail-head just off the paved road

66 March Hill Road, Alstead, NH 03602
In order to make a portion of the natural areas of Distant Hill Gardens more accessible to everyone, we constructed a mile long nature trail through a section of the property. This 21-acre portion of Distant Hill is located almost entirely in the town of Alstead, NH.

Distant Hill Nature Trail and 'White Rock Woods' Nature Play Area are open to the public daily. Visitors can visit the trail and the play area any day of the year, free of charge, from dawn to dusk. There is a small parking area just off March Hill Road at the Alstead/Walpole town line. You will find a kiosk there containing a trail map and other information about the trail.

Pets are welcome on leash. Please no horses or wheeled vehicles with the exception of wheelchairs and strollers. The trail is perfect for power-walking, running, or jogging. In fact, the Surry Village Charter School has used Distant Hill Nature Trail on many occasions as a practice venue for its track team!

Monthly Story Walk® at Distant Hill Nature Trail 
On the first of each month, the Walpole, NH, Town Library installs a new Story Walk® book on Distant Hill Nature Trail, with laminated pages of each book posted along the trail. And each page offers the reader a fun thing to do as they move from page to page.
The StoryWalk® helps build children's interest in reading while encouraging healthy outdoor activity for both adults and children.
Story Walk® was created by Ann Ferguson of Montpelier, VT, and developed in collaboration with the Kellogg-Hubbard Library. Story Walk® is a registered service mark owned by Ms. Ferguson.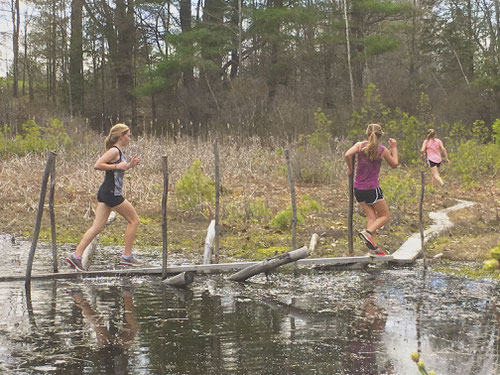 The Story of Distant Hill Nature Trail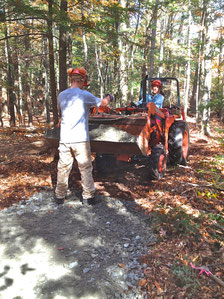 In the fall of 2013, we began building the first accessible nature trail at Distant Hill Gardens. The work was partially funded through the Quabbin to Cardigan Partnership (Q2C), a collaborative effort to conserve the Monadnock Highlands of north-central Massachusetts and western New Hampshire. The grant was applied for and administered through ACCESS, a now defunct Keene, NH, based non-profit helping people with disabilities.
Three days a week for six weeks that fall, a small group of students and teachers from ACCESS helped us start installing the base layer of our first accessible trail. It snaked its way through the woods to one of the many vernal pools on the property.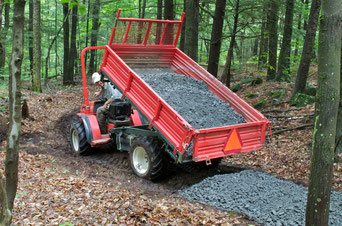 In the spring of 2014 we received a second Q2C grant and continued with the same ACCESS students to build the rough base trail to a second vernal pool. We worked throughout the summer of 2014 and completed the base for a half-mile long loop trail that connects four vernal pools and a black ash seep.

We were able to finish installing the base layer of gravel for the loop trail in the summer of 2014, thanks to the all-terrain dump tractor our friend, Ellen Jensen, graciously loaned us. 'Goldie' sped up the installation of gravel considerably! ('Goldie' is Ellen's nickname for her tractor, made by the Italian company Goldoni.)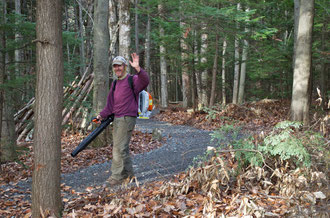 In May 2015, we received a third Quabbin-to-Cardigan grant to finish the loop trail with a smooth compacted gravel surface suitable for wheelchairs and strollers. The Cheshire County Conservation District (CCCD) acted as our financial administrator for these grant funds. For this section of the trail we had a middle school student supplied by The Hooper Institute in Walpole NH help with the trail building.
We finished the main loop trail in the fall of 2015 and opened it to the public in the spring of 2016. It is open daily from dusk to dawn with parking and an information kiosk  just off March Hill Road at the Alstead/Walpole, NH, town line.
Since the initial loop trail was completed in 2015, we used donations from the many workshops and events at Distant Hill Gardens to add another 900 feet of trail in 2016, and another 900 feet in 2017. This brought the total trail length to just over one mile.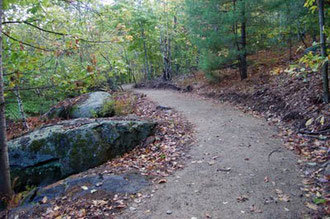 Michael Nerrie, the CEO (Chief Environmental Observer) of Distant Hill Gardens and Nature Trail, and chief builder of the trails, learned the fine points of building accessible walking trails at a workshop on Sustainable Trail Design in October 2013. It was taught by noted trail builder Peter Jensen of TrailBuilders.com. Peter and crew designed and built the longest Accessible Trail System in a mountainside environment in the United States at Crotched Mountain Rehabilitation Center in Greenfield, New Hampshire.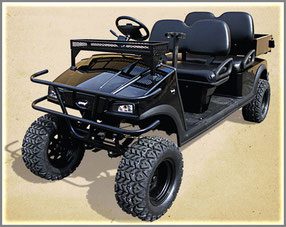 Additional trails and paths are being made more user friendly every year, but we can not make all the trails fully accessible.
We are hoping to purchase an off-road electric cart for the rougher, undeveloped, and steeper trails. This would enable us to transport visitors who need assistance to all the features of Distant Hill, even those sites that are not connected by accessible trails.
Between Donations, Grants, Crowd-funding and saving our pennies, we hope to slowly fund the 'Trails-for-All' construction and the equipment purchases.
Michael Nerrie
May 2012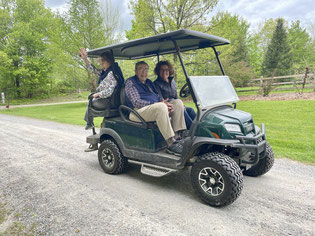 In December 2017 we won a Club Car Onward four-person electric personal transport vehicle with the help of hundreds of our friends on our Facebook page! Thank you to everyone who voted for Distant Hill Gardens!
Michael Nerrie
January 2017
October 2018 Update: Since the Club Car Onward was delivered in May 2017, we have used it dozens of times to transport people with mobility issues on Distant Hill Nature Trail, and on the grass paths throughout Distant Hill Gardens. We are now saving our pennies (317,739 pennies to be precise, or $3,177.39) to purchase a Special 4x4 Kit that adds electric motors to both front wheels. This will convert our two wheel drive Onward to four wheel drive, allowing us to bring visitors to locations on the property that are not accessible with the current vehicle.