Our Favorite Reference Books
"Anyone who has a library and a garden wants for nothing."  Cicero

With over 15,000 entries and updated from the original A-Z Encyclopedia of Garden Plants, this is undoubtedly the most complete and authoritative garden plant guide ever published. It includes hundreds of new plants and photos not included in the first edition. We have the original version here at Distant Hill Gardens, and it is always the first book we go to. In thirty years we have found less than a hand full of plants that were not listed. I would not doubt those unlisted plants might be included in this updated edition.
HIGHLY RECOMMENDED!!!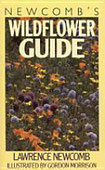 If you're going to buy just one book on wildflower identification, Newcomb's Wildflower Guide is it. Newcomb's system of identification based on flower parts, plant type and leaf characteristics enables anyone to identify almost any wildflower very quickly. It does takes a bit of getting used to, but is well worth it. 
The book includes shrubs as well as plants normally considered wildflowers. It does, however, only cover plants found in the North Eastern region of North America.

The Living Landscape shows the reader how to create a home landscape that nourishes and fosters wildlife while still providing a space for the kids to play, privacy, and maybe even a vegetable patch. By combining the insights of two outstanding authors, it offers a model that anyone can follow. Inspired by its examples, you'll learn the strategies for making and maintaining a diverse, layered landscape—one that offers beauty on many levels, provides outdoor rooms and turf areas for children and pets, incorporates fragrance and edible plants, and provides cover, shelter, and sustenance for wildlife.
Richly illustrated with superb photographs and informed by both a keen eye for design and an understanding of how healthy ecologies work, The Living Landscape will enable you to create a garden that is full of life and that fulfills both human needs and the needs of wildlife communities.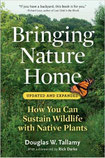 Bringing Nature Home has sparked a national conversation about the link between healthy local ecosystems and human well-being. By acting on Douglas Tallamy's practical recommendations, everyone can make a difference.
There is an unbreakable link between native plant species and native wildlife ― native insects cannot, or will not, eat alien plants. When native plants disappear, the insects disappear, impoverishing the food source for birds and other animals.
"The perfect antidote to the belief that nature happens somewhere else. If you have a backyard, this book is for you — get outside and learn about the wildlife around you, and then do something to make a haven for species at risk."
Richard Louv, author of Last Child in the Woods

No other single volume on native plants has such comprehensive horticultural coverage as Native Plants of the Northeast: A Guide for Gardening and Conservation. Nearly seven hundred species of native trees, shrubs, vines, ferns, grasses, and wildflowers from the northeastern quarter of the United States and all of eastern Canada are included. This book is an essential resource for everyone interested in gardening with native plants of all kinds, as well as those who need the information provided for habitat restoration and enhancement of biodiversity for the sake of conservation.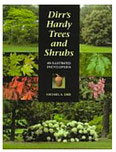 Dirr's Hardy Trees and Shrubs is a lavishly illustrated encyclopedia describing the best woody plants, from Abeliophyllum to Zenobia, adapted to cooler climates. It shows both habit and details - flower, fruit, bark, fall color - for more than 500 species and describes some 700 additional cultivars and varieties, many of which are illustrated. Although intended primarily for gardeners in USDA Hardiness Zones 3 to 6, this pictorial encyclopedia will be useful for those in warmer climates as well, since most of the species included will grow in Zones 7 and 8. This book is used often here at Distant Hill Gardens.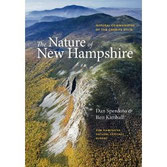 The Nature of New Hampshire will help you gain a new understanding and appreciation for the state's exceptional natural heritage by introducing you to Natural Communities found in the State. This book provides an important common language for conservation planning and informed land stewardship. Whether used as a field guide or an at-home resource, it will help you reconnect with your surroundings, and understand the natural places you value.
We have used it extensively to help us identify the many Natural Communities found throughout the 58 acres that make up Distant Hill Gardens.

The Resource Guide for Organic Insect and Disease Management was developed to provide a useful and scientifically accurate reference for organic farmers and agricultural professionals searching for information on best practices, available materials and perhaps most importantly, the efficacy of materials that are permitted for use in organic systems. It provides cultural information and management practices for a number of important vegetable crop groups. For each family, key pests and disease problems are described. Cultural methods and management practices that will help control the problem are listed, as well as materials that may be recommended for use. We use it often at Distant Hill Gardens to find the best way to deal with an insect or disease organically.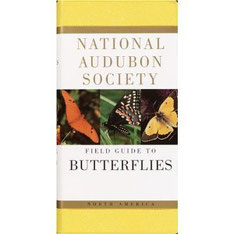 The National Audubon Society Field Guides are excellent. Twenty different guides cover birds, wildflowers, trees, mammals, insects, fish, and much more. We have eight books in the series here at Distant Hill Gardens: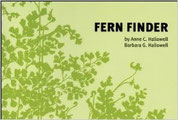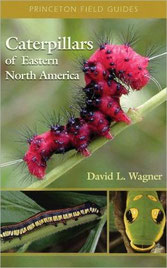 Caterpillars of Eastern North America
A Princeton University Field Guide
This lavishly illustrated guide will enable you to identify the caterpillars of nearly 700 butterflies and moths found east of the Mississippi. The more than 1,200 color photographs and two dozen line drawings include numerous exceptionally striking images. Full-page species accounts cover almost 400 species, with up to six images per species including an image of the adult plus succinct text with information on distribution, seasonal activity, host plants, and life history. These accounts are generously complemented with additional images of earlier instars, closely related species, noteworthy behaviors, and other intriguing aspects of caterpillar biology. Regarded by many as the most comprehensive field guide ever for caterpillars.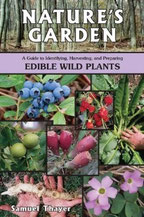 Nature's Garden ... A Guide to Identifying, Harvesting, and Preserving Edible Wild Plants
A detailed guide to all aspects of using edible wild plants, from identifying and collecting through preparation. Covers 41 edible plants in-depth, with the text accompanied by 512 color photos, demonstrating each edible part in the proper stage of harvest, plus showing important identifying features.
Acorns! - everything you ever wanted to know but were afraid to ask

Step-by-step tutorial to positive plant identification

Photos and text comparing potentially confusing plants

Thorough discussion on how to gather and use the plants